Welcome to the Sing-a-ma-jigs Wiki!
The Sing-a-ma-jigs wiki is a website about the Sing-a-ma-jigs plush toys that anyone can edit! On this wiki, you can create your own fanmade characters for the toy line. You only have to create a Wikia account if you want to start editing.
What the heck is a Sing-a-ma-jig?
According to Wikipedia, Sing-A-Ma-Jigs are an American line of electronic, singing stuffed toys by Fisher-Price, first released to the public in 2010. Each Sing-a-ma-jig is battery powered, with two AAA batteries already included. They're soft, plush dolls with terrycloth mouths, and measure about a foot in length. More information is on the Wikipedia page: http://en.wikipedia.org/wiki/Singamajigs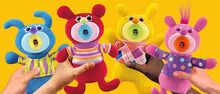 Latest activity