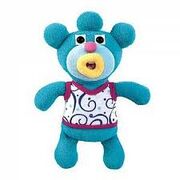 Aqua is an existent, non-fanmade Voice Wiggler Sing-a-Ma-Jig made in 2011. He sings "By The Beautiful Sea" in either a bass or baritone vocal range, depending on which one you buy.
Information
His ears are three circles, his eyes are black squares, his nose is pink and his mouth is yellow. He opens his mouth in an askew way, forming a triangle shape as opposed to the "O" shape the other Sing-a-Ma-Jigs make when opening their mouths. His teeth are also crooked as well.
He wears a white sleeveless shirt with pink trim and bass clef designs on it.
He was released alongside Rose.
Phrases
Sign-on: Ahoy there!
Song: Sea shanty!
Sign-off: Bon voyage!
Trivia
He's the only one with a crooked mouth.
He also has a unique set of 3 pirate phrases.
He is the only one to either have a baritone or bass vocal range.

The one with the bass vocal range is available either with or without the Voice Wiggle effect.